"WE PROVIDE ELECTRICITY TO HOUSEHOLDS WITHOUT EXPECTATION OF RECEIVING THIS SERVICE IN PALAWAN"
In the Philippines, we developed the Light at Home Palawan Programme to bring access to electricity service to the most poor and isolated rural areas of the province of Palawan. To implement this programme, acciona.org Philippines work in alliance with the Ayala Foundation and the Spanish Agency for International Development Cooperation (AECID).
We reduce the rural electrification gap in Palawan by facilitating access to renewable, reliable and affordable energy through self-installable solar home systems. We offer a quality and permanent electricity service by replicating the service provision model already implemented by acciona.org in other countries. A social contribution and the involvement of the local beneficiary communities guarantee the maintenance and continuity of the programme over the years.
The families now have more than 8 hours of lighting every day and can charge and use electronic devices such as fans, radios, phones, TV... The families benefited have improved their living conditions by being able to dedicate more time to their educational, productive and recreational activities with this essential service. Since the arrival of Light at Home, the children dedicate several hours more per day to study and the local businesses benefited have considerably increased their income.
10
PUBLIC BUILDINGS BENEFITED
CONTEXT
In the Philippines, 6 million people still don't have electricity, according to data from the country's Statistics Authority.
At acciona.org we started our activity in the Philippines in 2021, after detecting that some barangays in the country have neither access to basic electricity service nor any expectation of connection to the conventional electricity grid in the short term.
This energy access gap worsens the already vulnerable state of these communities in a country where the poverty rate increased from 11.3% in 2018 to 16% in 2021, according to the Philippine Statistics Authority (PSA).
acciona.org Philippines has as its local partner the Ayala Foundation, which has been promoting sustainable livelihoods, education and youth leadership in the Philippines since 1961.
In addition, the Light at Home programme is co-financed by the Spanish Agency for Development Cooperation (AECID).
Latest news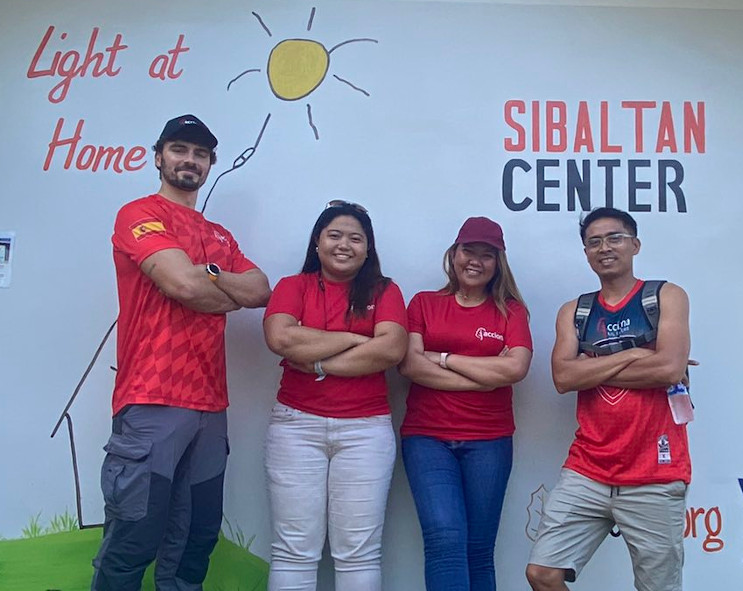 Get to know our first volunteers in the Philippines
06/20/2023
light at home palawan
Christian Balic, Faye Gonzales, Sam Solinap, and Eric Pasquito have been the first volunteers of the acciona.org Foundation in the Philippines. A few weeks ago, they collaborated with acciona.org on-site activities in El Nido rural communities, in the north of Palawan province.
SOME LIGHT AT HOME PALAWAN PROJECTS IMPLEMENTED IN THE LATEST YEARS