"WE PROVIDE ELECTRICITY TO THE MOST UNDERSERVED, ISOLATED POPULATION IN PANAMA"
We brought our Luz en Casa programme to Panama to offer a sustainable solution of access to electricity to isolated rural communities -preferably located in indigenous regions- having no prospects of conventional electrification (with grid connection). 
With this aim, we joined the Spanish Agency for International Development Cooperation (so called AECID) that works since several years ago in the operation area with other projects. This public-private partnership for development brings the necessary technical, managerial, economic and institucional resources to execute the actions. In addition, we currently have the financial support of the National Secretariat of Science, Technology and Innovation of Panama (SENACYT) for the scaling-up phase that we are executing.
The Luz en Casa Ngäbe-Buglé Programme provides access to a basic electricity service with off-grid renewable sources: third generation solar home systems, which are very efficient, have a plug&play architecture, no pollutant pieces and meet the user energy demand, as well as they are easily transportable due to compacity and low weight; they are a modern and safe solution for very remote households. Thus we provide indigenous families with access to electricity that generates positive impacts on the quality of life in the Ngäbe-Buglé region.
Impact summary:
6,488,727 h/year

available lighting

1,991,356 h/year

for additional activities at home

379,055 h/year

for doing additional homework

69,647 balboa/year

savings in energy expenditure (63,371€)

14,60 t/year battery

non-controlled disposal avoided

980.86 t/year CO2

emissions avoided
3,143
HOUSEHOLDS WITH ELECTRICITY
Watch video
ORIGINS OF THE LUZ EN CASA NGÄBE-BUGLÉ PROGRAMME
ACCIONA, working in Panama since 2013, detected the lack of access to basic services in the most isolated rural areas of the country.
As a complement to its business activity, through which is not possible to reach those populations in the last mile, it involved us as we are its corporate foundation to bring our reliable, sustainable and affordable solutions to those communities.
After the first analysises, we decided to start by adapting and implementing our access-to-electricity service delivery model in the Ngäbe-Buglé indigenous region, because it is the most underdeveloped one and has the largest lack of access to services in Panama.
In addition, the Spanish Agency for International Development Cooperation (so called AECID), which is our partner in projects in other countries, already worked in that region so it could provide us with its knowledge and, as it implements projects of access to water & sanitation, sinergies might be developed between us.
Highlighting Luz en Casa Ngäbe-Buglé projects
LATEST NEWS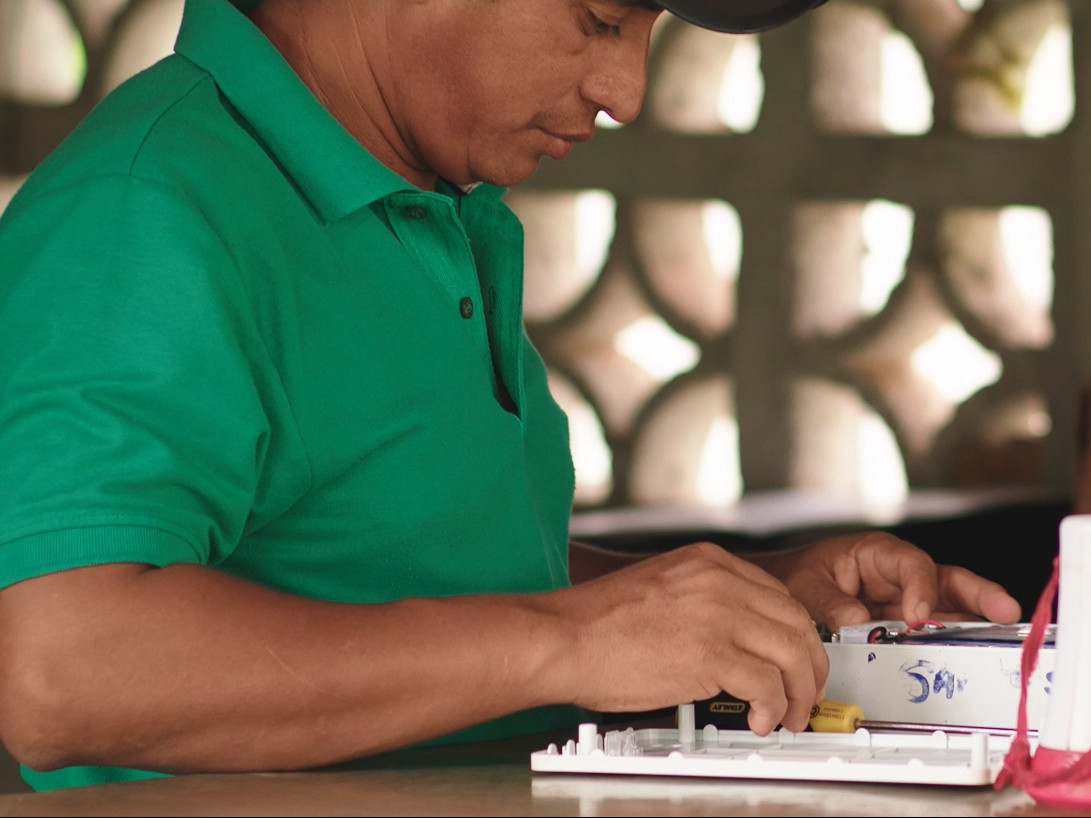 ILO selects acciona.org as innovative role model for fair energy transition in Panama
06/07/2023
Luz en Casa Ngabe Bugle
The acciona.org project to supply clean electricity to the indigenous region of Ngäbe-Buglé is one of the three schemes chosen for the Innovation Challenge launched by the ILO. This recognition implies its support to a technical assistance to evaluate the impact of the access to the electricit, especially the impact on the employment and the economic development, to propose recommendations to maximize those impacts. The acciona.org model will become part of the case studies for the ILO's Just Transition Innovation Center.